Apply Anhydrous Fast & More Precise
Least soil disturbance on the market – eliminates erosion risk & provides consistent seed bed.
Genesis TRX® is a precision, high speed, single disk opener for the placement of nutrients into the soil. Genesis TRX® provides superior sealing of ammonia at both high and low speeds with the least amount of soil disturbance – including in no-till, heavy residue fields.
Key Features
Durable, 4 ¾"-wide, rubber tracks hold residue & control disturbance
20″ vertical travel in each row unit with active hydraulic down pressure
5° of side-to-side oscillation
Rugged, heavy-duty undercarriage with ¾"-steel rail mainframe
Depth adjustment of 4″, 5″ or 6″
U.S. Patent No. 8,453,755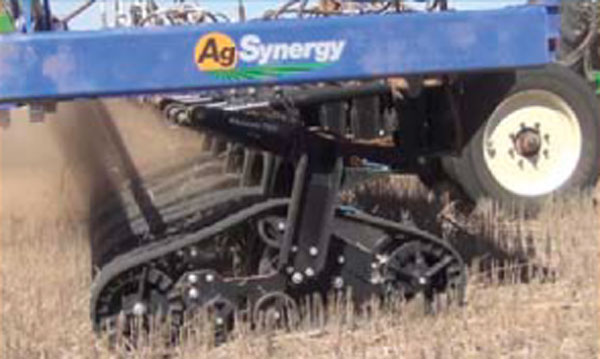 Low Operating Cost!
Genesis TRX® Estimated Operating Cost/Acre*
| | Avg. Acre Life (TR30A) 30′ 12 Row | $/Row | $/Acre |
| --- | --- | --- | --- |
| Blade | 6,000 | $52.00 | $0.14 |
| Knife | 2,000 | $64.00 | $0.51 |
| Tracks | 30,000 | $440.00 | $0.23 |
| Bearings | 20,000 | $400.00 | $0.32 |
| Total | | | $1.20 |