In 2004, Ryan Hammes, Hammes Family Farms and Hammes Seed Incorporated, began using toolbars with coulter applied anhydrous ammonia. By 2006, he began working with customers on solutions for precision application of anhydrous ammonia and other crop nutrients. Hammes soon decided that a complete turnkey solution for precision nutrient application was needed. He began working with suppliers and technology partners to design a new toolbar solution to meet that need.
In 2009, Hammes approached Jim Renyer and Andy Renyer at USC, LLC, about forming a company to develop and manufacture the new, turnkey toolbar solution for precision dual nutrient application. The team explored existing toolbar designs and the latest in technology for precision nutrient application. The first prototype was named TR40A and was assembled and field-tested fall 2009. Field testing and refinement continued into spring 2010 resulting in the final prototype successfully applying both anhydrous ammonia and dry fertilizer.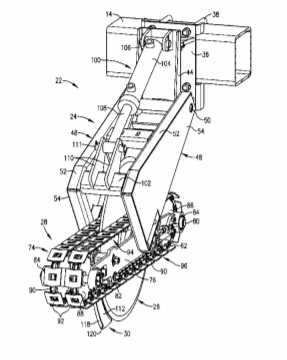 In March 2010, the successful partnership led to the formation of AgSynergy®. April 2010, a customer in northeast Kansas took delivery of the first TR40A production unit and the MT30A first production unit quickly followed, with delivery to a customer May 2010.
In the summer of 2011, AgSynergy® introduced Genesis TRX®. Genesis TRX® is a precision, high speed, single disk opener for the placement of nutrients into the soil. Genesis TRX® provides superior sealing of ammonia at both high and low speeds with the least amount of soil disturbance. In addition to Genesis TRX®®, new SM model toolbars and TR model toolbars were introduced.
The Genesis RAZER™ was unveiled in December of 2015 and is a single disk, high speed, minimum disturbance opener. The new Genesis RAZER™ row unit design allowed for dual placement of anhydrous ammonia with either liquid or dry fertilizer. This innovative product is adaptable to a wide variety of working conditions, ranging from conventional to no-till. The open design allows for easy access and the continuous flow of residue and soil throughout the row unit to minimize plugging.
Since unveiling the Genesis RAZER™, AgSynergy® further refined their toolbar design with the release of the TR400 Series™ Toolbars. Utilizing Finite Element Stress Testing, which included following rigorous tests using sensors placed throughout the toolbar, areas of high stress within the toolbar design were detected. AgSynergy® utilized this information to produce stronger, more advanced toolbars with new features not previously available.
AgSynergy® will continue to be recognized as the innovative leader in minimal disturbance, precision, nutrient application. With a dedication to safety, quality, durability, and innovation, we are dedicated to solutions developed by our expert team of agronomic specialists who are focused on nutrient application.
AgSynergy® will be the partner of choice, providing minimal disturbance, precision nutrient application solutions for agricultural producers across North America.
The AgSynergy® company culture is built on the values of Family, Integrity, Safety and Commitment to Serve.
Family – We exist to serve and provide for our families, maintaining a healthy balance in the time we invest in our business and the time we invest in our families.
Integrity – Our word is our bond, operating with the highest degree of trust at all levels, within and outside the organization.
Safety – We never compromise the safety of ourselves and our employees. Safety guides us in everything we say and do. We do not accept injuries as a part of doing business, believing zero injuries is achievable.
Commitment to Serve – We commit ourselves to serve each other, our employees, our customers, our community, and our families.